La moda para el hombre viene llena de novedades respecto al invierno pasado que invitan a renovar el armario y sorprender con looks diferentes.
De entre todas las tendencias masculinas para este invierno 2020 hemos escogido las 15 principales más "ponibles", que van desde la influencia de los años 70 con tejidos como la pana y el terciopelo, hasta las siluetas anchas en trajes o abrigos. También continúa ganando peso la moda urbana y deportiva para los días más relajados. En esta selección no falta ninguna, y además todos los artículos cuestan menos de 100 euros.
Como veis no hay excusa para ir a la última este invierno.
Men's fashion is full of new ideas compared to last winter that invite you to renew your wardrobe and surprise with different looks.
We have chosen the 15 most "wearable" men's trends for this winter 2020, ranging from the influence of the 1970s with fabrics such as corduroy and velvet, to wide silhouettes in suits or coats. Urban and sports fashion also continues to take on extra weight for more relaxed days. There is no shortage in this selection, and in addition all the articles cost less than 100 euros.
As you´ll see, there's no excuse to dress trendy this winter.
Estampado leopardo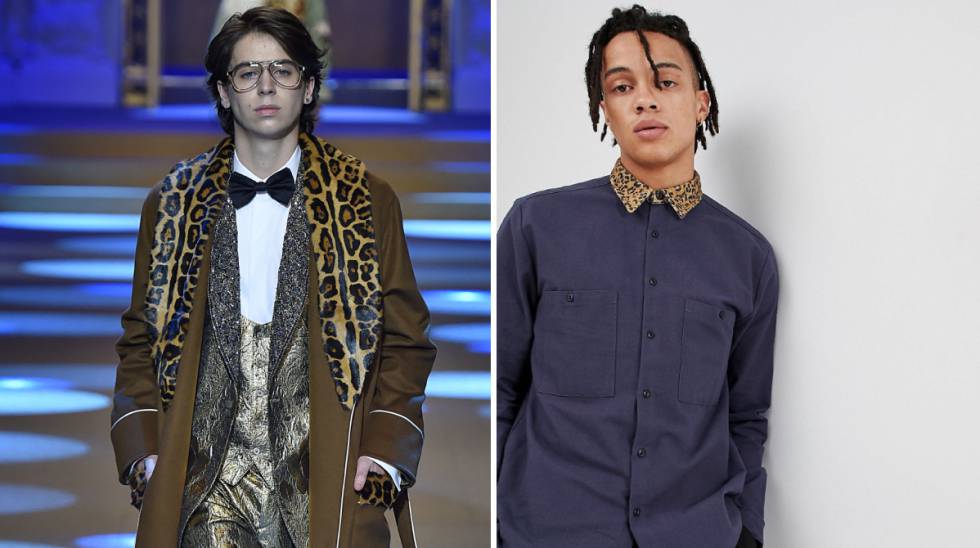 El estampado animal es la gran tendencia este invierno tanto para hombre como para mujer, y en concreto el de leopardo. Se pudo ver en el desfile de Dolce & Gabbana y gigantes como Zara han apostado por él en varias piezas para el hombre. Se va a ver en todo tipo de prendas y en todos los estilos. Camisetas, polos, camisas de vestir, e incluso pantalones, zapatillas y botas. Con looks urbanos pero también elegantes y de fiesta. Esta camisa de Asos tiene detalles con estos motivos en el cuello, para los que quieran apostar por esta tendencia en su versión más discreta.
Animal print is the great trend this winter for both men and women, and in leopard in particular. It could be seen in the show of Dolce & Gabbana and giants like Zara have bet on it in several pieces for men. It will be seen in all kinds of garments and in all styles. T-shirts, polo shirts, dress shirts, and even pants, slippers and boots. With urban looks but also elegant and festive. This Asos shirt has details with these designs on the collar, for those who want to bet on this trend in its most discreet version.
Borrego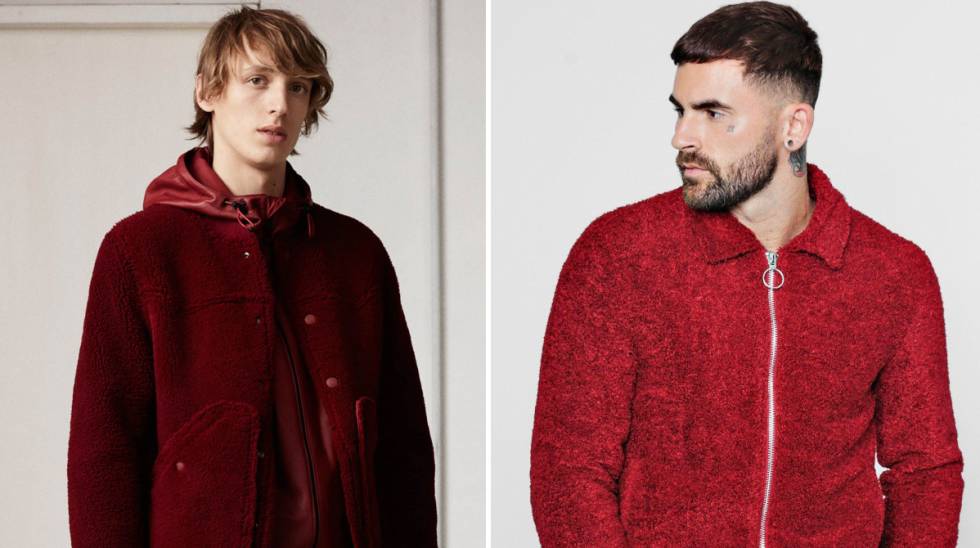 El borrego no es una novedad de este invierno, sino que lleva varias temporadas presente en parkas y cazadoras. Ahora sigue presente en esas prendas y en otras de inspiración años 70, una década que marca la moda que viene. Por ejemplo, en esta chaqueta Harrington (a la derecha) elaborada completamente en borreguillo disponible en dos colores, en negro y en un burdeos más atrevido y también tendencia.
Sterling is not a new thing for this winter, but has been present for several seasons in jackets and parkas. Now it is still present in these items and in others inspired in the 1970s, a decade that marks the coming fashion. For example, in this Harrington jacket (right) made entirely of sheepskin available in two colors, in black and in a bold burgundy and also more trendy.
La pana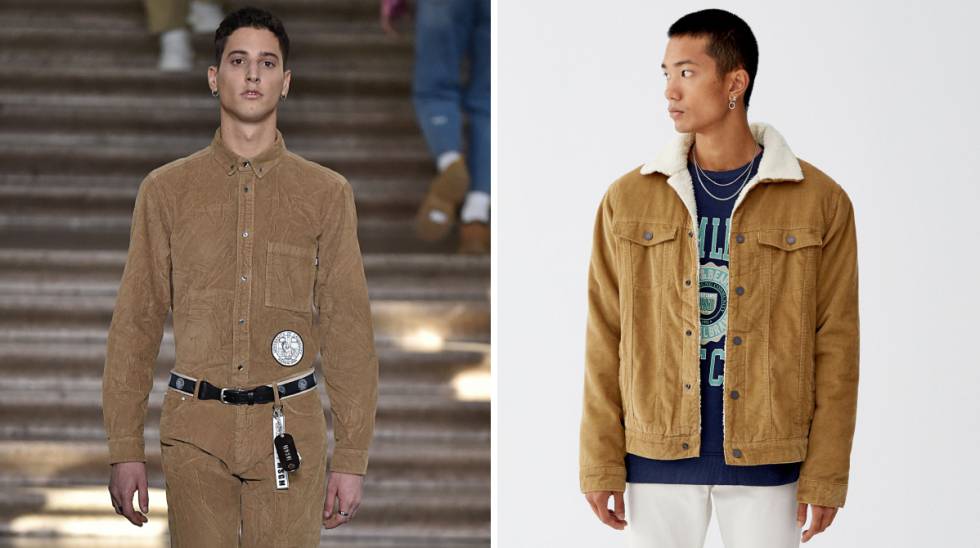 El tejido estrella para la llegada del frío va a ser la pana. Vuelven los 70, la época en la que la pana estuvo omnipresente en pantalones, camisas y cazadoras. Se lleva la más fina, en todos los colores y combinada con todo tipo de materiales y prendas. Un básico es la cazadora de pana trucker. Este modelo está disponible en cuatro colores, el clásico marrón, el verde musgo (color de moda este otoño), azul marino y negro.
The star fabric for the arrival of the cold weather will be the corduroy. The 70's are back, time when the corduroy was omnipresent in trousers, shirts and jackets. The finest is worn, in all colours and combined with all types of materials and garments. A basic one is the corduroy trucker jacket. This model is available in four colors, the classic brown, moss green (fashionable color this fall), navy blue and black.
El terciopelo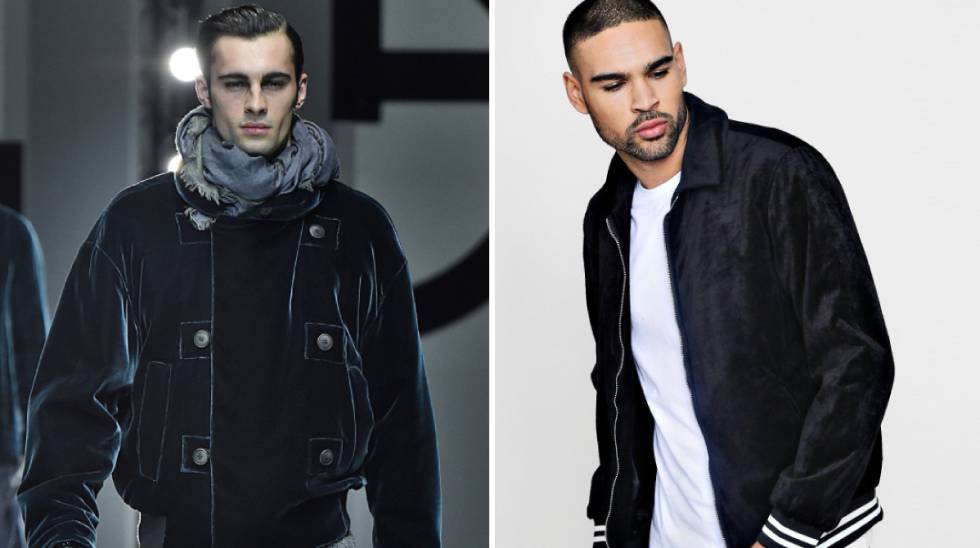 La otra novedad potente y que promete vestir a los hombres en las ocasiones más especiales y también en el día a día es el terciopelo. De clara inspiración en las estrellas del rock de los 70 como David Bowie, Mick Jagger o Jim Morrison, el terciopelo estará presente en camisas y chaquetas de vestir, pero también en prendas urbanas como esta bomber.
The other powerful new feature that promises to dress men for the most special occasions and also in everyday life is velvet. Clearly inspired by rock stars of the 70's such as David Bowie, Mick Jagger or Jim Morrison, velvet will be present in shirts and jackets, but also in urban garments such as this bomber.
Riñoneras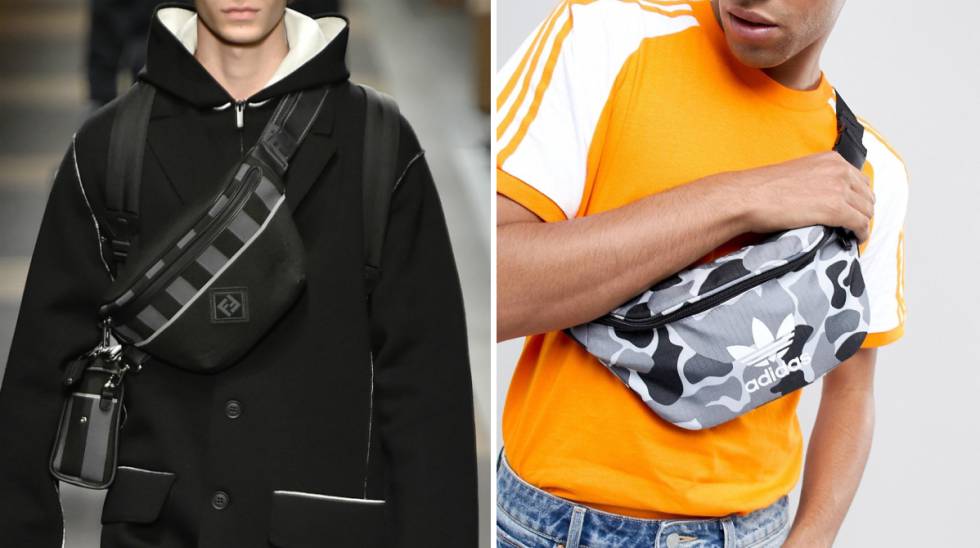 Malas noticias para los detractores de las riñoneras. Son el complemento definitivo para el hombre este invierno. Han aparecido prácticamente en todos los desfiles y en todas sus versiones, desde la mini de cuero a las XXL. A la cintura, colgadas tipo bandolera, estampadas, lisas, de patchwork… O de camuflaje, como esta casual de adidas.
Bad news for the critics of kidney bags. They are the definitive complement for man this winter. They have been featured in virtually every show and in every version, from mini leather to XXL. At the waist, shoulder straps, prints, smooth, patchwork ... Or camouflage, like this adidas casual.
Zapatillas blancas de silueta trainer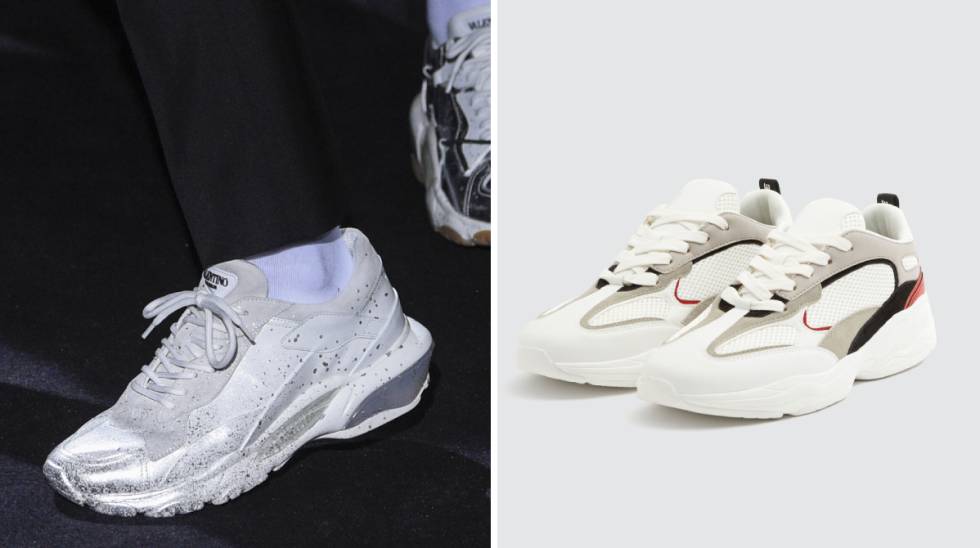 Las zapatillas feas han dado paso a las trainers en blanco, que han estado presentes en la mayoría de pasarelas y en desfiles de referentes como Rick Owens o Valentino (a la izquierda). El relanzamiento de las Yeezy Boost de adidas hace unos días en triple blanco no ha sido casualidad. La opción más buscada, las de suela alta y contundente, pero sin llegar al feísmo. Esta opción de Pull & Bear es muy ponible con todo tipo de pantalones.
The ugly shoes have given way to the white trainers, who have been on most runways like Rick Owens or Valentino (left). The re-launch of the adidas Yeezy Boost a few days ago in three white was no accident. The most sought-after option, the ones with high and forceful soles, but without reaching feism. This option of Pull & Bear is very wearable with all types of pants.
El layering o cómo llevar muchas capas de ropa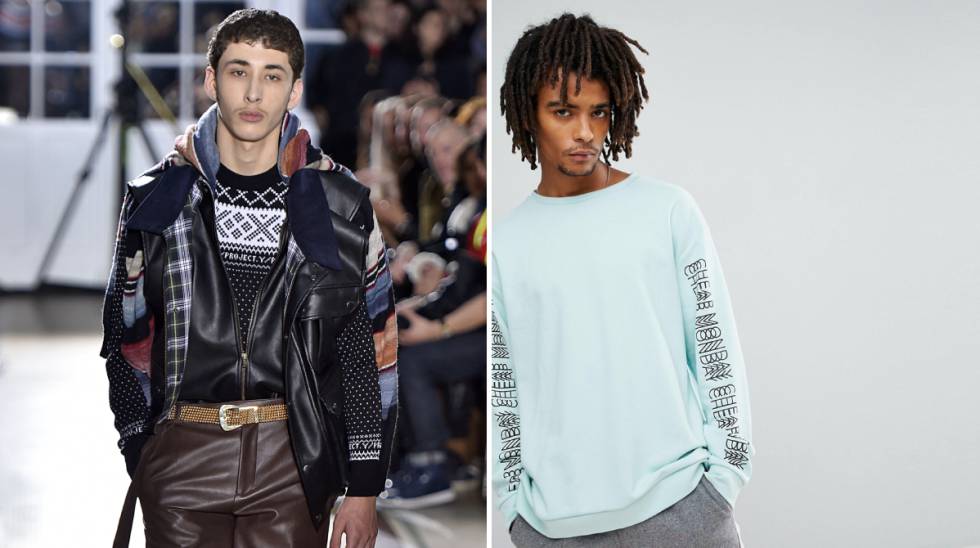 Es la tendencia más vista en las colecciones de moda. Los principales diseñadores apuestan por ajustar el vestuario a las distintas temperaturas sin pasar en ni frío ni calor. La solución pasa por vestir con distintas capas, desde la camiseta o camisa al abrigo o parka, pasando por el jersey de cuello vuelto, la sudadera, la sobrecamisa o los complementos como gorros, bufandas y fulares. Un ejemplo de este look de capas es la propuesta de Vuitton, Y/project o Lanvin. Para no parecer una bola de ropa andante la clave está en vestir las prendas del interior lo más finas posibles, y por eso no puede faltar una sudadera básica ligera como esta en color menta de Cheap Monday.
This is the most popular trend in fashion collections. The main designers bet to adjust the wardrobe to the different temperatures without passing in neither cold nor heat. The solution is to dress in different layers, from the shirt or shirt to the coat or parka, through the turtleneck sweater, sweatshirt, overshirt or accessories such as hats, scarves and scarves. An example of this layered look is Vuitton, Y/project or Lanvin. In order not to look like a walking ball of clothes, the key is to dress the underwear as fine as possible, and that's why a light basic sweatshirt like this one in mint color from Cheap Monday cannot be missing.
Parkas multibolsillo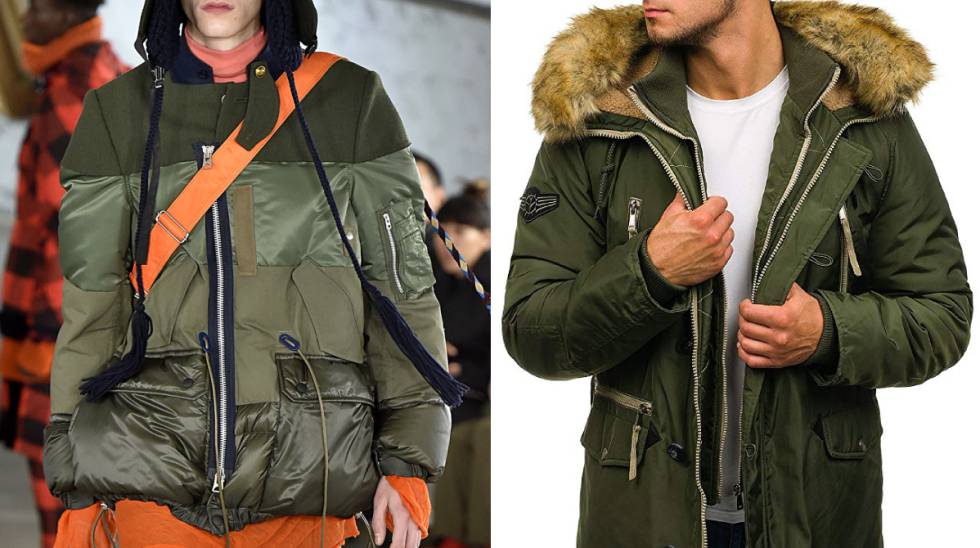 Otra prenda que repite es la parka multibolsillo, la pieza casual más de moda para los días más fríos, aunque también se llevan los plumíferos cortos en colores llamativos. Este modelo es en verde, sin duda el color de la temporada sobre todo en sus tonos musgo y caza. El precio, para ser una prenda de abrigo, es sin duda muy competitivo.
Another recurring piece is the multi-pocket parka, the most fashionable casual piece for the coldest days, although the short pens are also worn in bright colours. This model is in green, undoubtedly the color of the season especially in its moss and hunting tones. The price for a warm garment, is undoubtedly very competitive.
El abrigo largo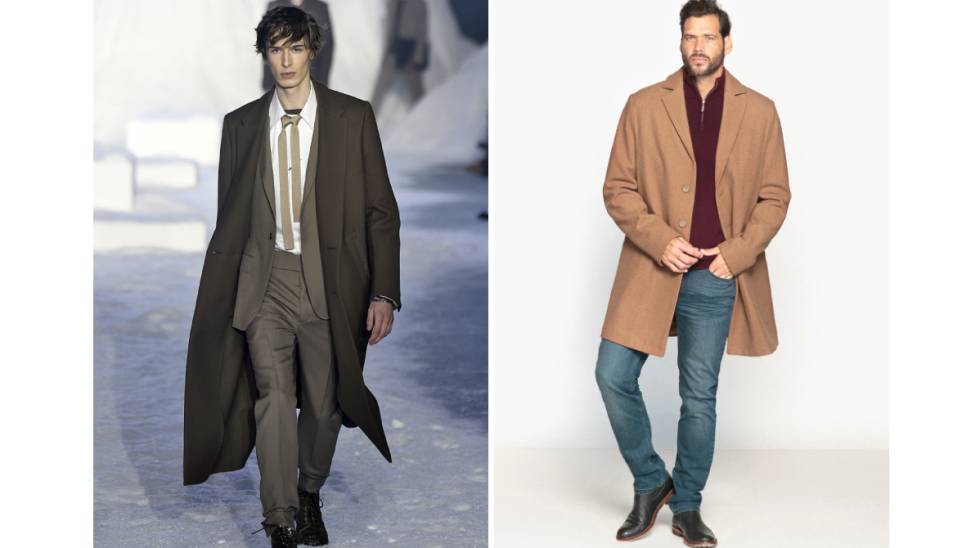 Es la prenda clave para todos los diseñadores. Aquella que comprar este invierno si se necesita reponer el fondo de armario para la llegada del frío. El abrigo viene este año más largo aún, a la altura de la espinilla, como se pudo ver en los desfiles de Zegna, Etro o Marni. Pero también ancho, la otra gran tendencia, y para los más atrevidos, de hombros caídos. Esta opción de La Redoute es más clásica, en tres cuartos y en tono tierra. Su precio, muy interesante.
It is the key to all designers. The one to buy this winter if you need to restock the wardrobe for the arrival of cold weather. The coat comes this year even longer, at the height of the shin, as could be seen in the parades of Zegna, Etro or Marni. But also wide, the other great trend, and for the more daring, shoulders drooping. This option of La Redoute is more classic, in three quarters and in earth tone. Its price is very interesting.
El traje "overside"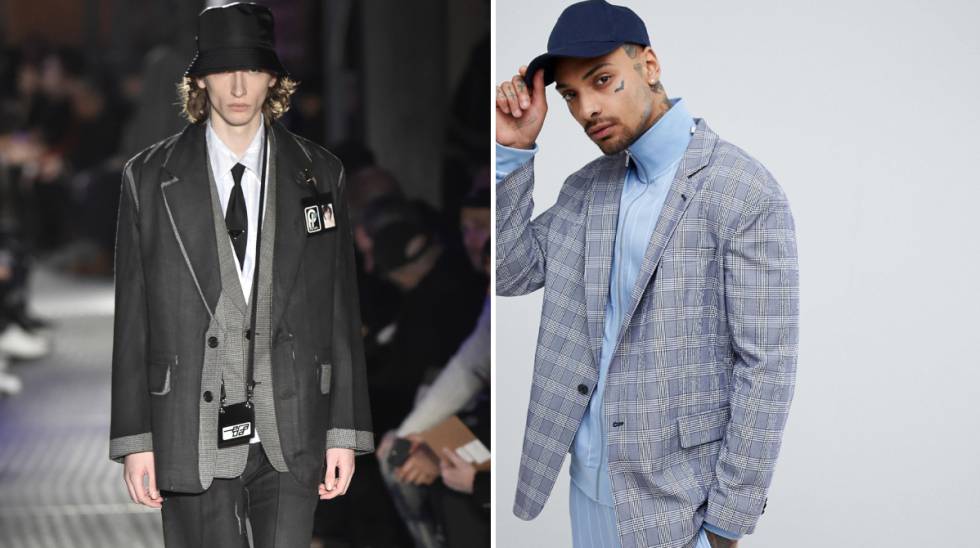 Sí, el oversize es una realidad aún más patente este invierno. Se acabó el vestir estrecho o con líneas muy marcadas. Ha sido la tónica generalizada en las pasarelas masculinas. De Prada a McQueen pasando por Dsquared2. En los trajes, se impone el ancho y el largo, tanto en americanas como en pantalones. Esta chaqueta es el ejemplo perfecto, y además incorpora uno de los estampados estrella, los cuadros con diferente tamaño.
Yes, oversize is an even more obvious reality this winter. No more dressing narrow or with very sharp cuts. It has been the general tone in the male catwalks. From Prada to McQueen via Dsquared2. In suits, width and length are the order of the day, both in jackets and trousers. This jacket is the perfect example and also incorporates one of the star prints, checks with different sizes.
El pantalón Capri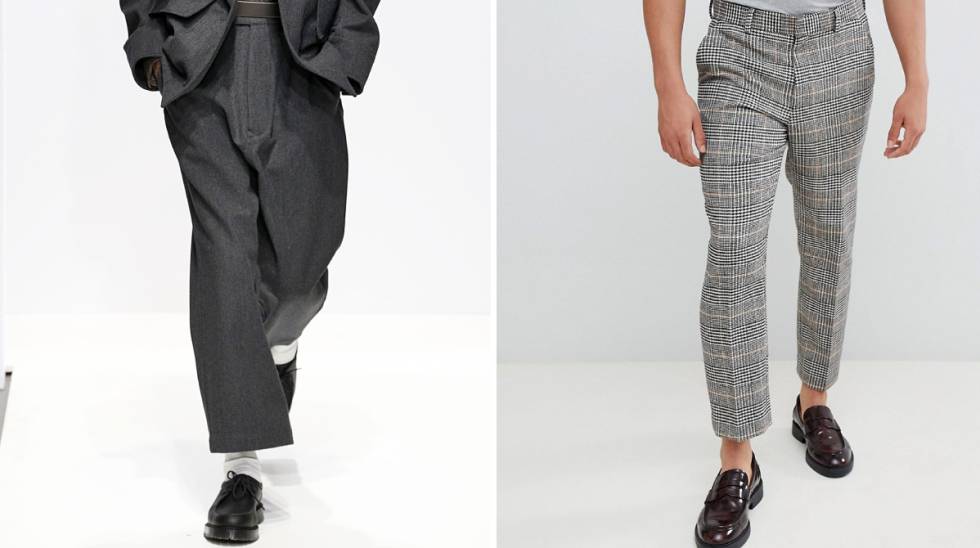 En los pantalones se imponen los extremos. O extra largos o tobilleros. Estos últimos, los pantalones Capri, han aparecido en desfiles como los de Armani, Margaret Howell o Valentino y estarán presentes tanto en vaqueros o joggerscomo en pantalones de traje o de noche. Este modelo a cuadros es un ejemplo ideal del corte que triunfará esa temporada, sobre todo en las semanas de entretiempo hasta que llegue el frío.
Extremes are given on trousers. Either extra long or anklets. The latter, the Capri pants, have appeared in parades such as those of Armani, Margaret Howell or Valentino and will be present in jeans or joggerscomo in suit pants or at night. This checkered model is an ideal example of the cut that will triumph that season, especially in the weeks between seasons until the cold arrives.
El cuello vuelto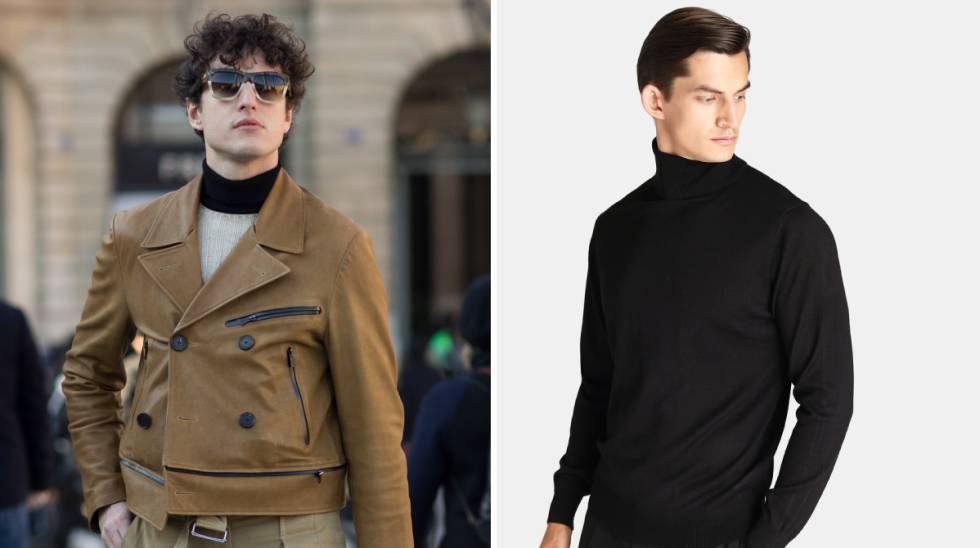 Llevaba bastantes temporadas un poco defenestrado pero ya desde el año pasado se anunciaba el regreso del cuello vuelto. Una tendencia que va de la mano de la del layering, y que sugiere vestir un suéter (también sudadera e incluso polo) de cuello alto o cisne y encima una chaqueta de lana, una cazadora vaquera o una gabardina o abrigo. Lo ideal por tanto es que el jersey sea en liso, ya sea en negro o gris como en un color llamativo. Ese modelo de Dustin es el clásico en negro combinable con todo.
It had been a bit defenestrated for quite some time but since last year the return of the turtleneck was predicted. A trend that is in line with layering, and which suggests wearing a sweater (also sweatshirt and even polo shirt) with a turtleneck or swan and on top of it a wool jacket, a jeans jacket or a raincoat or coat. The sweater should therefore be plain, either in black or grey, or in a striking colour. This model by Dustin is the classic one in black that can be combined with everything.
Bota de montañismo